For Immediate Release
8/12/2016
ZETTLER Controls AZ2800 relays post top-of-the-market 40A rating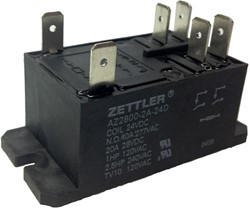 ZETTLER Controls recently unveiled a new 40A contact rating for the AZ2800 series of relays aimed squarely at the burgeoning EVSE marketplace. These double pole relays have long been known as HVAC switches, and most commonly found in compressor and heating circuits. Now, the AZ2800 has found a new home in Level 1 and Level 2 chargers for electric vehicles. The newly acquired 40A@277VAC rating meets the requirements of UL2202 Level 2 charging with branch circuit protection. Coming in both panel mount (AZ2800) and PCB (AZ2850) configurations, the relays are ideally suited to portable and fixed EVSE units. DPST-NO and DPDT versions are available. Lower capacity (3A) NC contacts can be used as part of a contact position monitoring circuit. For Samples and pricing please contact sales associate.
Full specs can be downloaded at http://www.zettlercontrols.com/products/pdfs/az2800.pdf.

ZETTLER Controls (HK) Limited
ZETTLER Controls (HK) Limited brings the same commitment to quality and innovation to the HVAC/R market that the Zettler name has embodied for over 100 years. Offering relays, transformers, contactors, heat sequencers and more, Zettler Controls' products are used by the HVAC/R industry for both residential and commercial applications. Zettler Controls' unique combination of 100 percent quality testing, first-class sales and technical support, cost-effective product design and outstanding product availability offer a highly dependable and responsive resource for all your HVAC/R component needs. For more information, please visit www.zettlercontrolshk.com .
For application and product information contact:

Tel: +852 2375 1288
email: sales@zettlercontrolsHK.com
Web: www.zettlercontrolsHK.com