For Immediate Release
4/17/2017
Introducing ZETTLER Controls' new 4-pole XMC0 series contactor
PRESS RELEASE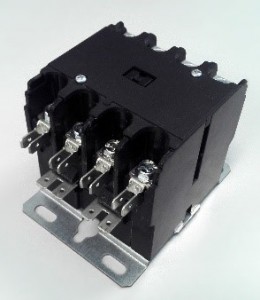 Zettler Controls extends their line of HVAC/R definite purpose contactors with UL approved 4pole, 25-40 Amp versions. The 4-pole XMC0 25-40 Amp contactors are able to switch heavy loads in applications such as elevators, cranes, hoists as well as typical HVAC/R products. The 4 pole XMC0 Series of high performance definite purpose contactors offers UL rated contacts of 25 through 40 Full Load Amps, up to 600V and coils rated Class F. The XMC0 contactors are built and tested to meet the ARI780/790 standard for industrial applications. Features:
Various termination options for specific application needs
Universal mounting plate for easy replacement
Convenient non-position sensitive mounting
Heavy-duty contacts ensure long electrical life
155˚C, Class F coils available with a wide range of voltages at 50/60 Hz
AUX contacts and micro switch offerings available
EE lamination provides optimal performance while reducing power consumption
Effective dust-proof construction
SCCR (Short Circuit Current Rating) 100kA, 600V
UL, CUR File E222994
CONTACTOR PROFILE
| | |
| --- | --- |
| Transformer | XMC0 series |
| Part Description | 4-pole Definite Purpose Contactor |
| Features/Benefits | 4 Poles 25, 32, 40 FLA Universal Mounting Plate Variety of Termination Options Variety of AUX contracts and micro switches available Standard and Compact forms |
| Applications | Air conditioning, refrigeration, heating, lighting, pools/spas, elevators, cranes, hoists power supplies, vending machines |
| Availability | Sample quantity available Production 10 weeks |
| Price | Contact sales associate |

ZETTLER Controls (HK) Limited
ZETTLER Controls (HK) Limited brings the same commitment to quality and innovation to the HVAC/R market that the Zettler name has embodied for over 100 years. Offering relays, transformers, contactors, heat sequencers and more, Zettler Controls' products are used by the HVAC/R industry for both residential and commercial applications. Zettler Controls' unique combination of 100 percent quality testing, first-class sales and technical support, cost-effective product design and outstanding product availability offer a highly dependable and responsive resource for all your HVAC/R component needs. For more information, please visit www.zettlercontrolshk.com .
For application and product information contact:

Tel: +852 2375 1288
email: sales@zettlercontrolsHK.com
Web: www.zettlercontrolsHK.com